This is a story about loss, pain and miscarriage of justice.
Background
On Australia Day 2009 Robert (Bob) Chappell went missing from their yacht "Four Winds" and has not been seen since. Sue Neill-Fraser, his partner of 20 years was charged and convicted of his murder. Sue had no history of violence or criminal convictions and the evidence was entirely circumstantial. Sue was sentenced to 26 years and incarcerated in Risdon Prison. She continues to strongly protest her innocence. A number of high profile people have now publicly voiced their concern about the unsafe verdict to the Attorney General of Tasmania.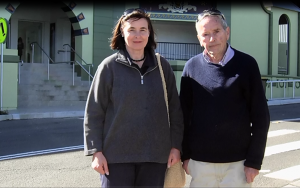 What the Jury wasn't Told
Unreliable Crown Witnesses: A main crown witness and his former partner had a long and documented history of trying to discredit Sue by making up vicious and slanderous stories. Despite an investigation finding earlier allegations to be without foundation, the prosecutor mentioned them in his closing address.
False Identification
A crown witness who believed she saw Bob and Sue having an argument on the morning of Australia Day, later identified Bob's sister as the woman she saw, after seeing her in court. That this was a false identification was not brought to the jury's attention.
Latex Glove
A latex glove was found on the stove bench-top by police on the morning Bob was discovered missing. Sue was accused of leaving rubber gloves on the stove-top following her "attempts to clean up". The jury was never told the DNA found on the inside of the glove, had tested positive for Bob's son, not Sue. This was accepted as an error by the Crown during the appeal but not corrected for the jury.
Homeless People
The DNA of a homeless teenage girl was found on the yacht and the police claimed that the homeless men living in their cars at the rowing sheds had not been present on Australia Day night. However, police investigation logs revealed they had been there. Further new information raises concerns about the theft of dinghies and the movement of people in dinghies, close to the time of Bob's disappearance.
Which Dinghy?
Sue's dinghy is bright white and blue. A reliable witness and others saw a commercial looking, large scruffy dark grey ( "battleship grey") dinghy, with lee cloths, tied to the yacht at 4.00 pm on Australia Day. In court, it was stated categorically, this was not the dinghy belonging to the yacht, yet this was downplayed by the Crown.
Relationship
There was no evidence of Bob and Sue's relationship ending, other than comments by the two men who helped deliver the yacht to Hobart from Queensland. Family and close friends could have verified the strength of their relationship, had they been asked in court. The only evidence of friction between them about where they would sail the yacht, came from the member of Bob's family whose DNA was discovered inside the glove.
Forensic Evidence
The court was told there was evidence of Bob's blood in their dinghy. The judge relied on this and referred to it during the trial. However there was no confirmed evidence of blood in the dinghy and the small amount of blood found on the yacht was adequately explained by Bob's history of severe nose bleeds.
Diary Entry
The yacht was entered (but nothing taken) about a fortnight before Bob's disappearance and Sue had mentioned the incident in her daily diary. During the trial she was accused of inserting a false entry into her diary. However a police document examiner gave a statement in March 2009 indicating there was no evidence of the entry being added later.
Winching
Ropes were found wound the wrong way around the main and mizzen mast winches. Detectives decided, without evidence that Sue had winched Bob's body out of the yacht, somehow lifted him over the side into the dinghy, before heading for deep water and again lifting him over the side without capsizing the dinghy. Medical records show Sue had a 'slipped disc'. For many years she had not been able to lift even moderate weights.
Marieville Esplanade
Before Bob was confirmed missing, Sue told a police officer she had remained home the night before, when she had actually walked down to collect the family car from Marieville Esplanade. It was not a lie told out of 'consciousness of guilt', but because of family sensitivities surrounding the mental health of one of Bob's adult children, who was reportedly suicidal down at the yacht. Sue's concern was not to cast suspicion on a vulnerable person. That loving concern for her step-daughter may have cost Sue her freedom. In the days following Bob's disappearance Sue tried to assist police piece together the timing of her movements. She said she'd had lunch on the yacht with Bob, then a shower and lunch at home 'then' had gone out to Bunnings Hardware, then returned to the yacht and taken leftovers home for the cats. Sue and Bob had a similar routine every day for some weeks. Sue agreed when police suggested times she was at the yacht, even though that information later proved to be wrong. Rather than intentional lies, Sue could easily have mixed up the days due to the effects of the wrong timings suggested by police, shock, anxiety and confusion.
The Red Jacket
Sue was briefly shown a red jacket shortly after Bob was discovered missing. Police claim she denied it was hers but none of the officers statements agree on what was said by Sue or the other people present.
Fire Extinguisher
The prosecutor portrayed Sue as a liar, intentionally setting off 'red herrings'. It was Sue who identified the missing fire extinguisher to Police who then claimed it was used to weigh down Bob's body. Why would a guilty person incriminate themselves? It is doubtful an extinguisher could weigh down an adult body.
The Valve
When the sinking yacht was boarded police found an open valve and cut pipe. It was said Sue must have done this because only someone with 'intimate knowledge" of the boat would be able to find it. The jury was never told Bob had lifted the floor panel covering this valve while doing maintenance so the valve was visible to anyone on board.
Refer this back to Court
Sue's family have staunchly defended her innocence for 13 years. They describe her as being peaceful, caring and someone who would go out of her way to help others. There was no motive for Sue to harm Bob as she was financially secure in her own right and they were planning a voyage together on their new yacht.
Thanks to the efforts of a new legal team, it became clear a significant amount of information relevant to Sue's defence had been known to police before trial, but not disclosed. This may have hampered defence counsels' ability to cross examine and call witnesses. These issues are just the tip of the iceberg.
This conviction should be of concern to every Australian. If this can happen to Sue, it can happen to anyone. How would you feel if it happened to you?
Things you can do

:
Write to the Tasmania's Attorney General c/- Parliament House, Hobart 7000,
Asking:

The Neill-Fraser case be reviewed.
Tasmania considers setting up a Criminal Cases Review Commission to look at all cases where a miscarriage of justice may have occurred.
Agitate for a Commission of Inquiry into Tasmania's Justice System

Contact your local Member of Parliament to share your concern
Send a letter to the Editor
Look out for showings of the film "Shadow of Doubt"
Send a letter of support to Sue Neill-Fraser at P.O. Box 24, Lindisfarne, 7015
Contact the Support group to purchase a copy of the DVD of 'Shadow of Doubt',
or obtain one for loan. Share it with your friends.
Join our mailing list (somuchdoubt@gmail.com) to stay in touch with developments or Join the support group to offer your assistance.